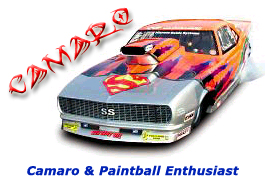 [Home][The Computer Page]
---
NEW PROJECT!!!!
Thanks to CP for giving me the idea for a clear case. I just didnt want a clear case for my shitty ass current computer, so a full blown comp from the ground up!
The Computer:
No pics yet, sorry. This new project is in the very early stages of planning. one thing to look for is a clear case with some color light & a desk, with glass top, & the same type of light recessed into the top of the desk.
The Parts:
Here is a list of the parts I may use to build this computer. Remember, I may change these later.
---
All text, graphics, photos and content, Copyright 2002, 2003 Camaropball's. All rights reserved. Unauthorized duplication prohibited. All data contained herein presented for informational purposes only. Use at your own risk. May cause drowsiness, irritability and violent incontinence. Not responsible for chromosomal damage due to improperly shielded monitors. Do not take internally. Not responsible for excessive chronic disclaimer squinting syndrome. Wash eyeballs thoroughly after use.