Welcome to my site. Still has that new site smell.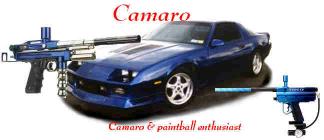 [Home][The News][VLM Master Archive] [Technical Section] [Custom Parts][Paintball Products]
[A,CC&R][Classifieds] [My Guns] [Contact Info] [Legal & Shipping info][Chat] [Links]
---
New look. New smell!
That's right, she has a new look! Wonder why? It's because she one year old, on June 20th. I plan on redoing the entire site.
VLM Master Archive:
A collection of found VLMs. These bodies were made by AKA & in the past year or so have become very rare & sought after by hardcore Spyder lovers.
Technical Section:
Paint & barrel size charts. Modifications to E-frames, which are the first on the net & more.
Custom Parts:
Parts I've had made or plan on making that will greatly improve your guns preformance!
The Photo Gallery:
Info & photos on my guns along with other photos of mods & projects.(Will be up soon)
Non Paintball Stuff:
A collection of photos on stuff not related to paintball.
EM1 Owners Site:
The temp. EM1 Owners site. New one is comming together!!
---
[Home][VLM Archive][Technical Section][Custom Parts][Non-Paintball Section]
All text, graphics, photos and content, Copyright 2002, 2003 Camaropball's. All rights reserved. Unauthorized duplication prohibited. All data contained herein presented for informational purposes only. Use at your own risk. May cause drowsiness, irritability and violent incontinence. Not responsible for chromosomal damage due to improperly shielded monitors. Do not take internally. Not responsible for excessive chronic disclaimer squinting syndrome. Wash eyeballs thoroughly after use.