Welcome to my site. Still has that new site smell.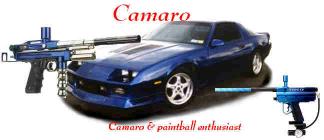 [Home][The News][VLM Master Archive] [Technical Section] [Custom Parts][Paintball Products]
[A,CC&R][Classifieds] [My Guns] [Contact Info] [Legal & Shipping info][Chat] [Links]
---
Custom Parts
For Spyders & EM1s
---
Flow King Valve
All production of the valves have stopped for future developing.
---
Heavy Hammer
Spyder only
Plans are finished & ready to be sent off.
---
Plans for the Spyder version are finished & the EM1 version is in the final stages. When prototypes are done both the Spyder & EM1 bolts will be done at the same time.
---
Noid Tray
EM1s only
Right now theres talk of several people saying they are going to make them but not til winter or after the new year. This is a pretty simple project & hopefully I will get it done fast & it be made sooner.
---
[Home][Custom Parts]
All text, graphics, photos and content, Copyright 2002, 2003 Camaropball's. All rights reserved. Unauthorized duplication prohibited. All data contained herein presented for informational purposes only. Use at your own risk. May cause drowsiness, irritability and violent incontinence. Not responsible for chromosomal damage due to improperly shielded monitors. Do not take internally. Not responsible for excessive chronic disclaimer squinting syndrome. Wash eyeballs thoroughly after use.