Welcome to my site. Still has that new site smell.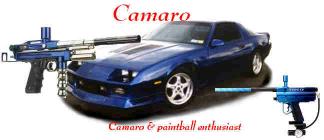 [Home][The News][VLM Master Archive] [Technical Section] [Custom Parts][Paintball Products]
[A,CC&R][Classifieds] [My Guns] [Contact Info] [Legal & Shipping info][Chat] [Links]
---
Mods
Here is a list of mods that you can do to your gun. Some help more than others & some are for when your bored out of your mind.
---
[Home][Technical Section][Mods]
All text, graphics, photos and content, Copyright 2002, 2003 Camaropball's. All rights reserved. Unauthorized duplication prohibited. All data contained herein presented for informational purposes only. Use at your own risk. May cause drowsiness, irritability and violent incontinence. Not responsible for chromosomal damage due to improperly shielded monitors. Do not take internally. Not responsible for excessive chronic disclaimer squinting syndrome. Wash eyeballs thoroughly after use.