Contents: AKA VLM Body, Diamond Lab Double Trigger Grip Frame, OTP LP Chamber, LAPCO Cocker BigShot Barrel, KAPP Cocker Vertical ASA Adapter, LAPCO Drop Forward Stock, Diamond Lab Rear Adjuster, F4 Stainless Mian SPring Guide Rod, Armson Sight, Adrenalin Angel Hi-Rise Hopper Adapter, AirAmerica Vigilante Regulator.... Read more here.
Here is a pic of Terry's VLM before it got anoed.
Here is Suprbugman's VLM after it got anoed.
Specs are as follow:
-AKALMP VLM Spyder Body-came with lowrise feed and ball detent cover
-Custom Milled by Jackal Machining-to my own design-they did excellent
-Anodized Red/Orange Acid Wash
-Polished the Inner Bore-used the old shotgun cleaner and Mothers Mag Polish
-10" DYE Titanium Boomstick-colormatched to the gun
-10" CP Chrome(.689)
-11.5" SS Lapco Autospirit
-Adrenalin High Rise Feed-ported and colormatched to the gun
-12vX Clear Revolution
-AKALMP Spyder Lightning Bolt
-KAPP Twisted Red Cocking Rod
-ACI HVC(LPC)-colormatched to the gun
-Stiffest Valve Spring I could get my hands on
-AKALMP Spyder Tornado Valve/Cupseal
-Polished Striker-near mirror finish
-Spyder Standard Velocity Adjuster-colormatched to the gun
-Spyder SE Thumb Velocity Adjuster Knob-colormatched to the gun
-KAPP Autococker SS 4 Ball Pullpin
-KAPP 15* Angled Vertical Adapter-colormatched to the gun
-DYE 2x .45 Trigger Frame-colormatched to the gun
-DYE Clear Sticky Grips
-Polished Spyder SE Trigger
-Trigger Job-1/8" pull--will be shorter whenever I quite being lazy
-P&P Lightened Autococker Beavertail-colormatched to the gun
-Mac Dev Sonic Red Gladiator
-KAPP Drop Zone II w/Apoc Rail Mount-colormatched mounting blocks and chrome bar
-Mac Dev Conquest
-KAPP Red Fill Nipple Cover
-Redz Red Tank Cover
-SS Line-cause its so much better than macroline
-SS Quick/Disconnect
-Red 90 elbow
-Modified Wire Nubin
-Bought a Standard for parts in which the buffer, main spring guide, various trigger parts and body pins, and washer thingy(in the velocity adjuster) were all raped off the Standard
-Various setscrews, screws, and teflon tape provided by Lowes and Home Depot
---
SuPrBuGmAn's 2nd VLM (Envy)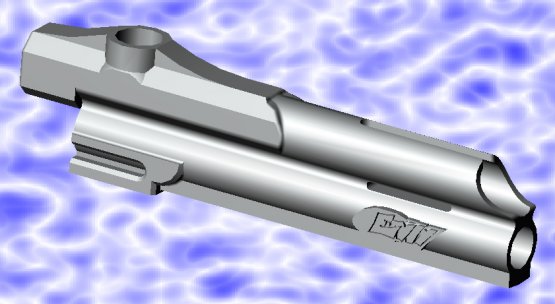 ~Here is what Bugman will have Envy milled as.~
KAPP Drop Zone II with Apoc Rail drop forward
KAPP Twisted Cocking Rod(may not be used in final design)
Mako Storm(Completely Raw in order for it to be anodized with the marker)
Kingman Spyder E99 LPC
DYE Low Rise Angel Vertical Feed
Kingman Velocity Adjuster
Kingman Main Spring Guide
Kingman Striker Buffer
Dark Horizon Titanium Fatty Hammer
KAPP Milled Vertical Adapter
---
DTLarson's VLMs
VLM #1: secret, but he plans on having a purple body with chrome parts. It will have an Air America Armageddon and the body will have very light milling, just for an outline, and the sides will be engraved by the same people who do the Remington firearms.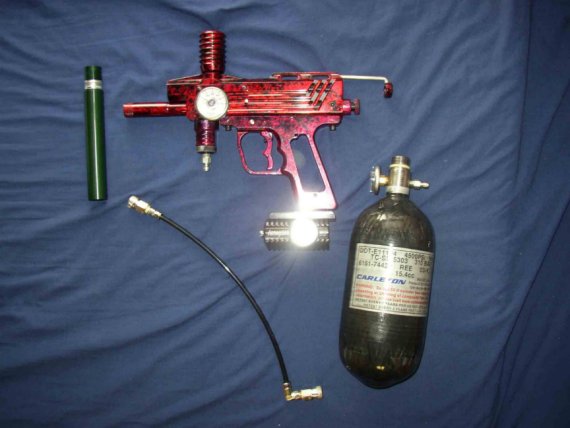 VLM #2: DTLarson's plans are to make this functional, then start upgrading it. He will take the Tornado Valve and lightening Bolt from his last marker and use that in this marker. DT will also have to go by just the regulator on my Armageddon since he does not have the funds right now for a second regulator. Due to not having a regulator or barrel.
UPDATE!I got this email from DTLarson a few days ago saying, "It is not going to be reannoed since I was able to get the regulator from Terry"
---
VomusY VLM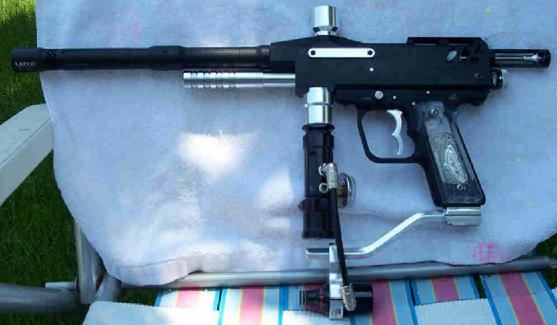 -AKA VLM Body
-Anno'd and inner bores polished by: Fear Factory PB
-External Parts Polished by:FoxWorks
-Milled by: Jackal Machine
-LAPCO Bigshot
-Whitewolf Delrin Bolt
-AKALMP Beavertail
-AKALMP Tornado Valve
-Shocktech LPC
-32 Degrees Springs
-HPP Velocity Adjuster
-Smartparts Max-Flow Inline Reg
-Benchmark Double Trigger Frame
-DYE Crystal Grip Panels
-KAPP Drop Zone 3 with KAPP on/off
-Vented Feed neck
-Macroline
-Trigger work
---
Eng555's son's VLM
Its anodized a dust grey color with all matching parts.
Another example of stock AKA milling.